Made in china new arrival Indoor Perforated aluminum ceiling with pvdf - 62
1) light weight, 2) weather resistance/corrosion resistance, 3)easy installation and construction, 4)recyclable environmentally -
details see: https://www.buildingsupplieshub.com/made-in-china-new-arrival-indoor-perforated-aluminum-ceiling-with-pvdf-10000311
| | | | |
| --- | --- | --- | --- |
| Place of Origin: Guangdong China (Mainland) | Brand Name: OUMUSI | Model Number: 62 | Usage: Indoor |
| Function: Anti-Static,Antibacterial,Fireproof | Surface Treatment: Foil Decoration,PE Coated,PVDF Coated | Type: Ceiling series | Material: Aluminum |
| Brand: Oumusi | Specification: Customized | Coating: Powder spraying,rolling,laminating and metal anode oxidation treatment | Thickness: >0.6mm |
| Color: white/ black/ grey or customized | length(mm): 300/600/900/1200 / customized | width(mm): 300/600/ customized | |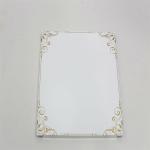 Made in china new arrival perforated aluminum facade
Introduction:
Perforated aluminum ceiling system made of high quality aluminum panels to the substrate, advanced CNC bending technology to ensure smooth plate after processing can not deform aluminum ceiling installation process in anti-CCP forces superior performance. Aluminum ceiling is coated with fluorocarbon spraying equipment Gram United States and the United States Aksu Fluorocarbon (PVDF) coating, to ensure uniform surface color, UV radiation, oxidation, superior corrosion resistance, veneer production center processing strength, technical strength strong, with more than Germany CNC shearing machine, CNC bending machine and the United States stud welding, sophisticated equipment proficiency highly skilled workers, is the leading vendors profiled sheet metal processing.

Perforated aluminum ceiling wall panels substrate is a selection of Korea, the Korea Aluminium Limited 3003 5052 aluminum-manganese alloy or magnesium alloy high quality panels, so the aluminum tensile strength, yield strength and other properties than other types of Strong aluminum.

Aluminum ceiling structure consists of its panels, stiffeners and angle code and other components. Aluminum ceiling specification sizes up to 8000mm × 1800mm (L × W)

Paint used by the U.S. PPG, U.S. Valspar Valspar, Akzo Nobel AkzoNobel, Korea KCC and other famous brands coating, the coating is divided into two coat one bake, three-coat two baking, the coating performance to AAMA (American Architectural Manufacturers Association ) and ASCA (American Architectural Coating Association) of AAMA2605-98 standards.

Perforated aluminum ceiling materials conventional thickness: 2.0mm, 2.5mm, 3.0mm. • Perforated aluminum ceiling materials commonly used specifications: 600 * 600mm, 600 * 1200mm
Features:
1 Aluminum ceiling light weight, good rigidity, high strength characteristics, 3.0mm thick aluminum plate weight per square 8kg, tensile strength 100-280n/mm2
2 Aluminum ceilings weather resistance and good corrosion resistance. Using kynar-500, hylur500 pvdf fluorocarbon-based material can allow aluminum ceiling surface 50 years without fading.
3 Technology is good. After processing using the first painting process, aluminum can be processed into a flat, curved and spherical and other complex geometries.
4 Aluminum ceiling coating uniformity, color variety. Advanced electrostatic spraying technology makes the adhesion between the paint and aluminum uniform, color variety, choose a large space.
5 Fluorocarbon aluminum ceiling is not easy to spot, and easy to clean and maintain. Non-fluorine coating film adhesion, the surface is difficult to attach contaminants will have better self-cleaning.
6 Quick and easy installation and construction. Aluminum molding factory, construction site, without cutting, can be fixed to the skeleton.
7 Aluminum ceiling recyclable environmentally friendly. Aluminum can be 100% recycled, unlike glass, stone, ceramics, aluminum panels and other decorative materials, recycling high residual value.
Perforated aluminum ceiling applications
• facades, pillars, balcony • Terminal / car floor
• Chamber Opera • stadiums
• Reception Lobby
Installation Process
1, according to the same level height installed close corners.
2, in accordance with the appropriate spacing lifting metal frame (38 or 50 of the keel), generally 1-1.2 m spacing, light steel keel boom according to the requirements from the distribution.
3, the pre-installed on the aluminum ceiling keel hanging pieces, together with the aluminum ceiling light steel keel keel close to perpendicular to the direction of light steel keel below the buckle, aluminum ceiling grid spacing is determined according to the size of plate, all Zhuangwan must adjust to the horizontal.
4, the aluminum ceiling keel buckle in sequence, each finished buckle one, will be inverted locking tabs depressed, keel connection with the connector connected.
5, the board must be installed with gloves, such as accidentally leaving fingerprints or stains, use detergent and wipe dry.
Why choose our company?
1).Our company provide theOEMservice..
2).We have professional technicians and designers, we provide timely proprietaryone-on-one services.Our desiger will designs and draws the drawings according to application specification.
3).We have our own R&D department and factory.Our factory covers 30,000 squaremeters,and factory introduction of foreign advanced production equipment, adopt advanced production techniques. All clients were deeply impreseed by the factory after they had visited. We also welcome you come and visit our fatory and company,enhance ourexchanges.
4)We can provide the best satisfying productsto our clients.
5)Our products has beena numbel of honors and certificates.

The products show
The project show
Packaging Detail:1.Pearl cotton packing 2.Bubble packaging 3.Protective film for packaging 4.Cardboard packaging 5.Packed in Wooden Case
Delivery Detail:3-7Days
Related Product for Made in china new arrival Indoor Perforated aluminum ceiling with pvdf