aluminum panel - LLS-1
aluminum panel, aluminum cladding panel, aluminum wall, 1.5 2.0 2.5 3.0mm, max size 1800*8000mm -
details see: https://www.buildingsupplieshub.com/aluminum-panel-10000192
| | | | |
| --- | --- | --- | --- |
| Place of Origin: Guangdong China (Mainland) | Brand Name: leiluosi | Model Number: LLS-1 | Usage: Outdoor |
| Function: Fireproof | Surface Treatment: PE Coated,PVDF Coated | Material:: AA1100H14, AA1100H24, AA1060H14, AA1060H24, AA3003H14, AA3003H24, etc | Thickness:: 1.5mm 2.0 mm 2.5mm 3.0mm |
| Surface Treatment:: Mill, PVDF, Polyester coating, Powder Coating | Style:: Plane, curve, irregular, perforated, or as per your request | color: choosen | sape: meet your need |
| surface: mirror | | | |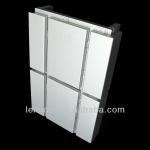 Aluminum panel
Description:
aluminum panelusing high strength alloy aluminum plate for base material, the shear next makings, bending, welding, assembling, grinding, pretreatment, spray paint process produced.
1. The thickness of 2.0 mm, main 2.5 mm and 3.0 mm, etc.
2. The structure of fluorine-carbon aluminum single sheet mainly by aluminum plate, reinforcement, hang ear etc parts;
3. In order to ensure that the sheet metal in the long-term use of flatness and strength, in the back panel with to strengthen, through the kind of nail bolt the reinforcement and aluminum panel connection, make its formed a strong overall, to increase and improve the strength and stiffness of the plates;
4. fluorine carbon spraying the surface lacquer that bake, improve the resistance of aluminum climatic and corrosion resistance
aluminum panel
Features:
1) Super peeling strengthaluminum panel
2) Durability
3) Fireproof
4) impact resistance
5)Easy to be processed
6) Noise absorptive
7) Multiple colors and coating evenness PVDF Aluminum Composite Materal,ACP,widely used for wall clading,faced materials,eave coating,various colour,20 years guarante
PVDF Aluminum Composite Materals,Acp,wall cladding,ACP
Widely used for wall clad,20 years guarantee.
aluminum panel
Specifications:
1) Aluminum sheet thickness:
a) 0.5 x 0.5mm b) 0.4 x 0.4mm c) 0.3 x 0.3mm d) 0.21 x 0.21mm e) 0.15 x 0.15mm
2) Panel thickness: 2mm,3mm,4mm,5mm,6mm
3) Dimensions:
a) Width: 1,000mm, 1,220mm, 1,250mm, 1,570mm
b) Length: 2440mm, upon customers' request
4) Standard dimensions (width x length x thickness):
a) 1,220 x 2,440 x 3mm b) 1,220 x 2,440 x 4mm
5) Normal color: 20 kinds for Normal aluminum composite panel 7 kinds for granite grain panel
6) Non-standard sizes and special colors are available, according to customers' requests
aluminum panel
Item
Thick
surface
size
Feather
Application
aluminum panel
1.5mm
PVDF
600*600mm
25 years
metro
2.0mm
PE
600*1200mm
100% recycle
station
2.5mm
powder spray
1220*2440mm
anti-corrosion
Mall
3.0mm
8000*1800mm
steel-strengh
exhibition building
MOQ:200M2
Package: Triple
20 days base on 500m2
Picture of aluminum panel
Application of aluminum panel:
Packaging Detail:foam for corner protection wooden for surface & side carton outside
Delivery Detail:7 DAYS
Related Product for aluminum panel